When looking for a fishing kayak for the Sunshine Coast waters and surrounds the following questions will help you identify where to start. The idea is to simplify the choices and identify the fishing kayaks that offer the most benefits to your needs and goals.
Where are you going to use it? River, Estuary, Dams, Canals, Ocean
How will you transport it and can you store it?
Paddle or Pedal
On the Sunshine Coast, we are spoiled with options to fish from a kayak, our staff are active kayak anglers and our store specializes in custom installations so we have a very good idea of what you might be looking for in a fishing kayak for the Sunshine Coast and surrounds.
In this article, we cover the most common questions from those new to the sport of kayak fishing with answers that better arm them with the right information for choosing a fishing kayak. At any stage, you can check out our full range of fishing kayaks HERE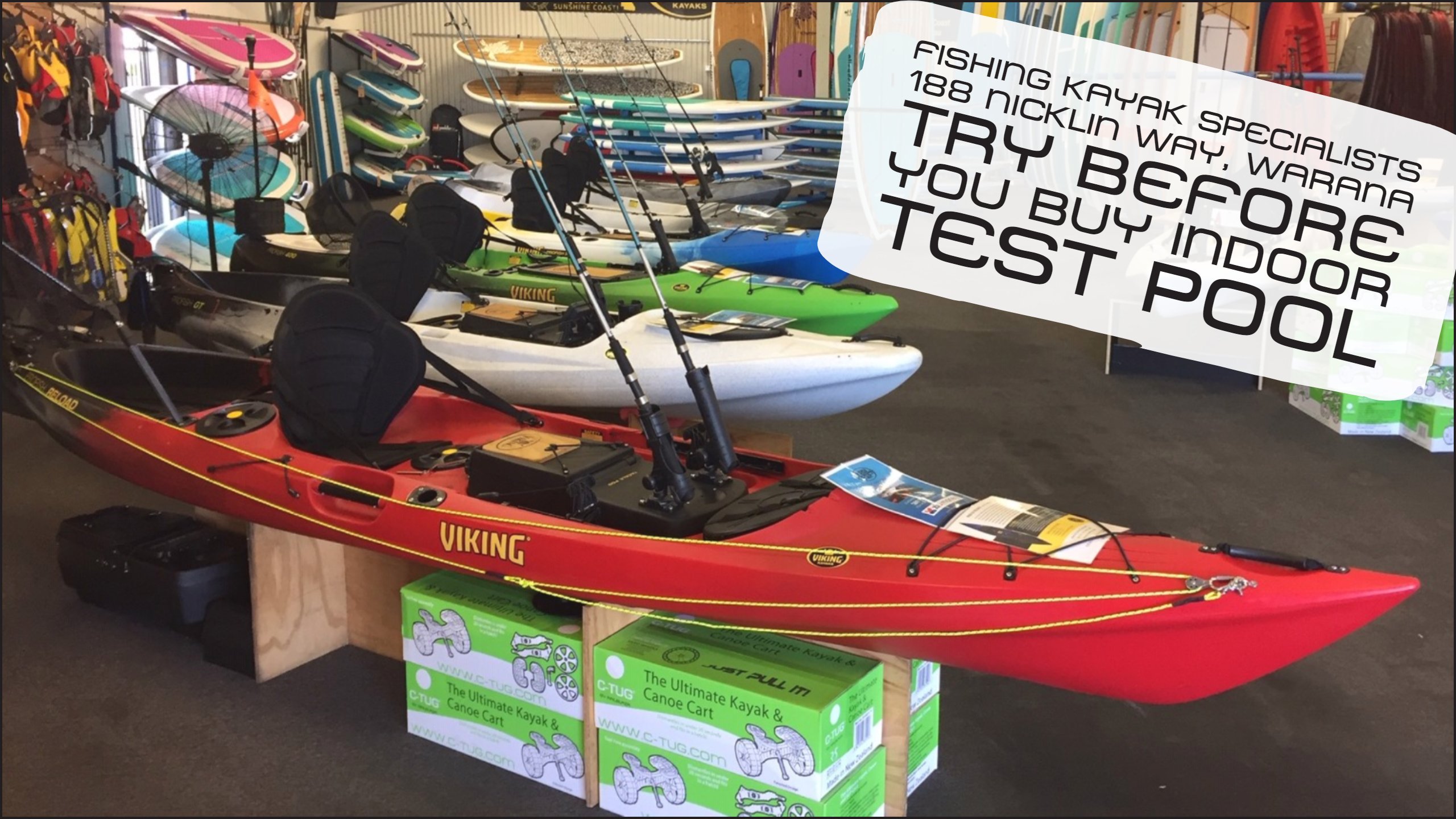 The basics of hull shapes and stability.
First, it's good to cover the basics. Hull speed is dictated by length and width, the longer and narrower kayak the less drag so in effect is easier to paddle. Longer narrower kayaks can be less maneuverable (need a rudder to help turn) and potentially less stable.  Kayak maneuverability is also controlled by the length and by rocker, the shorter the kayak the easier to turn but slower to paddle. Wider kayaks also create more drag whence are slower to paddle so better for shorter distances.
A long kayak in this conversation would be anything from 4m up. Shorter kayaks would be in the 3.9m and under with anything under 3m being classed as extremely short. It's worth noting early that there is no perfect fishing kayak that will do everything well, more often there will be a compromise. Fishing kayaks of this day come with a lot of features and options, so the compromises are less you just need to be clear on the key things important to you.
Center of gravity and stability – Sit on top Fishing kayaks are all very stable, so the question of stability comes down to 2 key things.
The paddler being relaxed. Nervous paddlers fall out of kayaks, kayaks do not tip them out. If you are relaxed and roll at the hips you will not fall out. That's easy to say when you're experienced so to help we have a test pool in the shop to show you just how stable the kayaks are. The more time you spend on the water more relaxed you will become.
Overloaded kayaks tip over. The only other key factor that could tip you out of your fishing kayak is that you have the wrong kayak for the conditions or have exceeded the carrying capacity of the kayak.
The higher the seat position the higher the centre of gravity, so the kayak with a high seat needs to be wider to offset this. Narrower kayaks can retain stability by having lower set seat positions to bring the centre of gravity down. More kayak under you generally equates to higher load-carrying capacity so longer wider kayaks will have higher payloads and in turn offer greater stability.  There are other factors that come into play like hull shapes and chines but for the most part, this information is relative to all fishing kayaks.
"Wider is not always the answer for better stability, lower centre of gravity is important too for both stability and comfort"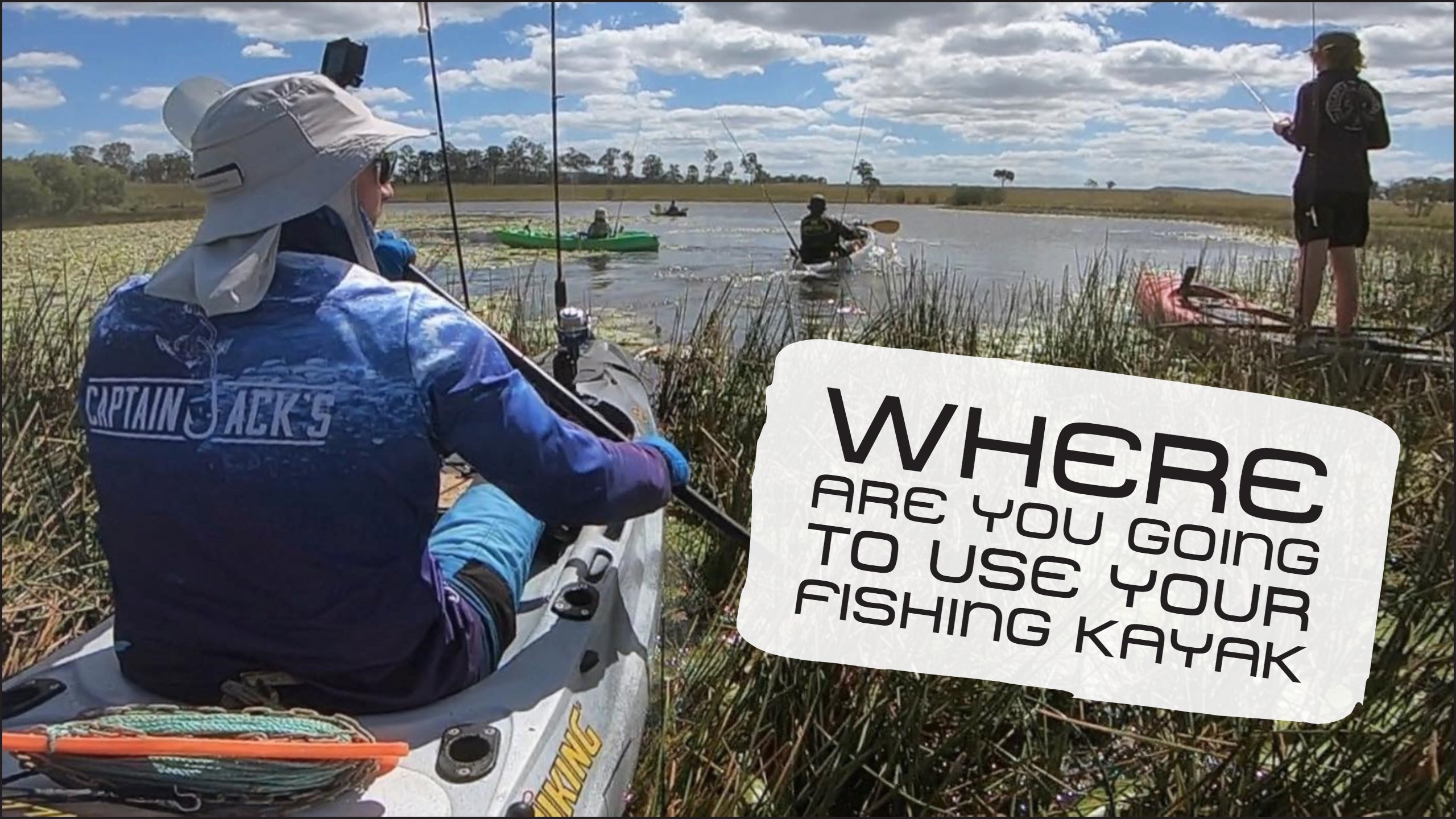 Where are you going to use it?
Knowing where you are going to use the kayak and what species your planning to target will help decide the right fishing kayak. Where the species is relative to the choice is usually to do with the distances you need to paddle to get to these fish and the gear you need to carry to target them.
Rivers– If your planning to use it in river situations like Mooloolah River, The Passage, Maroochydore River and Noosa River then you're going to need to consider tidal movement and shallow sand bars.
A longer more efficient hull preferably with a rudder option is going to make paddling against current 10 x better than a shorter wider kayak that will push water and battle to track into the current. Shorter kayaks can still be used in this environment, but you will need to restrict the distances your paddling or plan your trips around the tides to utilize the direction in your favour.
Dams & Canals – If you're just planning to Fish the Dams like Ewen Maddock, Baroon Pocket, Lake MacDonald etc then hull speed can be less of a priority over maneuverability, stability and cockpit layout. But don't discount the longer kayaks in this environment as these dams hold a lot of water and fish that will make you move to find them. If you find yourself on the far side of the dam when the wind kicks in, you will be glad to have a little bit more length in your hull to get you home with less effort.
Canals are much the same relatively protected so the length you choose will come down to how far in the canal you want to paddle. It's not a bad idea to consider taking the kayak trolley with you in case you need to walk the kayak on the paths or roads at any point.
Offshore – If offshore is your goal, then a kayak with great stability is essential to counter the swell and surf. Faster more efficient hull as per the river situation is better with the added feature of completely watertight hatches. The longer kayak offers greater ability to carry more gear, better tackle management and fish storage which is useful when planning an offshore adventure even if just travelling to the close headland reefs.
Shorter hulls can also be used offshore but only recommended if travelling short distances like behind the surf to chase the tuna for example or headlands close to your launch spot for some reef species. Smaller kayaks have less ability to carry gear practically and safely so only plan to travel light in the shorter kayaks.
How will you transport and store the fishing kayak
This is obviously a big factor to understand. Are you transporting one or more kayaks, do you need a roof rack or a trailer? Can you store it outside or on the roof of the garage? Good news for you is the kayak industry has been around a long time and have answers and options for you.
Let's start with getting it from the shop and to and from the water – usually, the best way is roof racks and we can install them while you wait. Think of the racks as an asset for the future. Sit on top kayak generally, don't need cradles so you simply flip the kayak upside down and strap it on (obviously removing all the gear first). If your needing to carry 2 kayaks, then a set of J- Cradles or wider bars is the solution to this.
Load assist – Obviously kayak weight and size needs to be considered here, something to be aware of is the bigger the kayak the heavier the kayak. Your purchasing choice does not need to be dictated by weight as there is a range of load assist products on the market that will allow you to open your options and they won't all break the bank! In fact, we have a very good locally made solution for $159.00 called the Rack & Roll which is our most popular seller, it allows you to load the kayak in 2 stages only lifting half the weight each time. Watch the demo video below.
Soft Racks & Trailer – soft racks are an option if you're just travelling short distances with one kayak, note if you use them often you will increase the risk of scratches to your roof. Trailers are always another option if you have the space to store it, a simple box trailer will do the job.
Kayak trolley – hands down a must-have for kayak fishing kayak whether you need to walk a short distance or far. Put the kayak on the trolley load your gear and walk to the water. The C-Tug Trolley is a one size fits all and has the option of the sand wheels which make it 50% easier to pull the kayak over soft sand. The trolley can then be pulled apart and stowed in the kayak rather than leave it at the water's edge.
Storage – The kayaks we sell here are all made in Australia & NZ using high-quality UV stabilized plastics meaning you can leave them out in the sun without fear of them fading and becoming brittle like many inferior plastics coming out of China. The Kayak wall sling from RAILBLAZA is our most popular solution for hanging the kayaks outside on the fence, against a wall or even in the garage if you have space. Inexpensive and effective. If you want to protect them from rain and debris then a cheap tarpaulin from Bunnings will do the job fine and a few straps to hold it down.
Our second most popular solution is the ceiling hoist – if you're limited for space then the ceiling hoist will allow you to lift the kayak up on the roof. If you have a pontoon then the people who make the walkways have cradles designed for securing the kayak over the side and out of the way. Alternately if you have space lay the kayaks on their sides against a wall or a fence, don't leave it on the trolley for long periods as it will deform the hull.
Paddle or Pedal Fishing Kayak
There are obvious pros and cons to both methods and that is why we sell both paddle and Pedal Fishing kayaks. Let's cover the obvious Pros of both letting you decide which is most important to you and where you intend to use it. You can book in for a free trial to help better decide which way is best for you
Paddle Fishing kayak Pros
Generally, more affordable with lower entry price points and often lighter
Can paddle in shallower water without risk of damaging a pedal drive or catching on weed etc
Better choices for offshore, lower centre of gravity and more efficient
Less working parts to maintain and quieter when trying to be stealth
Pedal Kayak Pros
Hands-free fishing with only one hand required to steer
Using Legs can be more efficient as they are a bigger muscle group
Wider and flatter cockpits making it easy to stand and sight cast
A better choice if you have weaker upper body strength or injuries to shoulders or arm joints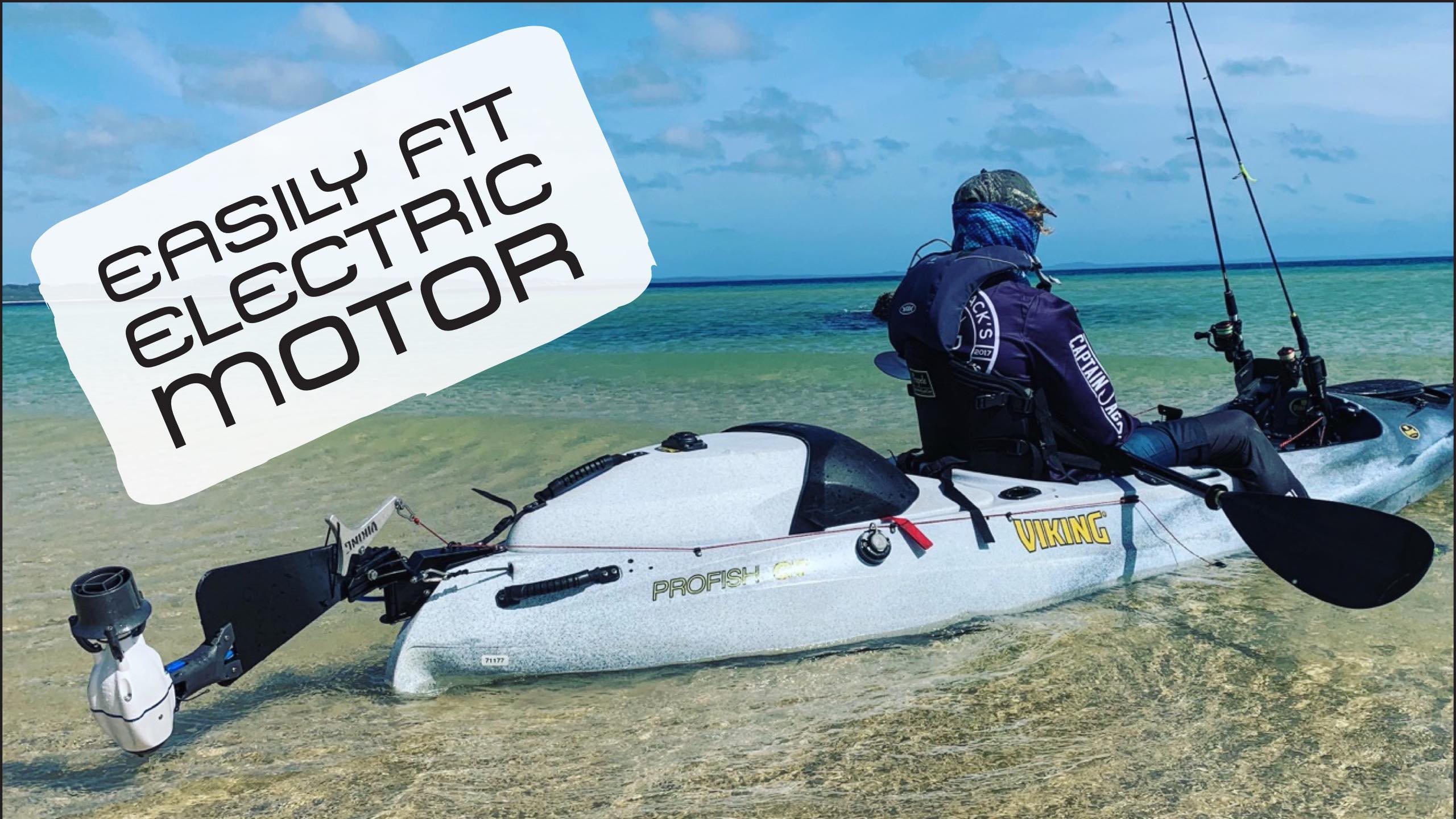 Can you put a motor on your fishing kayak?
Absolutely yes and we regularly custom fit kayaks with electric trolling motors, weathers it's for a paddle assist option or for effortless hands-free trolling we can sort out a motor option to suit your needs and budgets. The Bixpy Jet motor is by far the most advanced system but we also fit as many RAILBLAZA  side mount transom bracket options.
Check out our full range of fishing kayaks HERE
Now that you have some more insights into the style of fishing kayak that might suit your needs its time to talk options. Many of the dedicate fishing kayaks are already set up ready with what you need to grab and go fishing, you can then after a few trips start to think about what extras are important to you like fishfinders, fish storage, motors, extra rod holders and more… we won't go into to much detail on that as these are all very personalized options that we are happy to answer either instore, over the phone or by email. Please don't hesitate to contact us if you have any questions as we are here to help – our contact details are HERE, thanks for taking the time to read this information we hope it has been useful.