The Sunshine Coast waters hold some very good reefs in close that are perfect for targeting snapper and other reef fish from a fishing kayak. Many of these are shallow which means boats will scare the fish and they are too far to cast from land making them perfect for the stealth of a fishing kayak. Below we share our tips and 5 locations that will help you plan a snapper fishing trip on the Sunshine Coast.
If you need a fishing kayak we have a full range of fishing kayaks that will be ideal for any fishing adventure you have planned for the Sunshine Coast. If you already have a fishing kayak but need accessories or want to set your kayak up for fishing then we have all the accessories instore and a full workshop for installations of fish finders, electric motor mounts, anchor systems and more.  Check out our full range of fishing kayaks HERE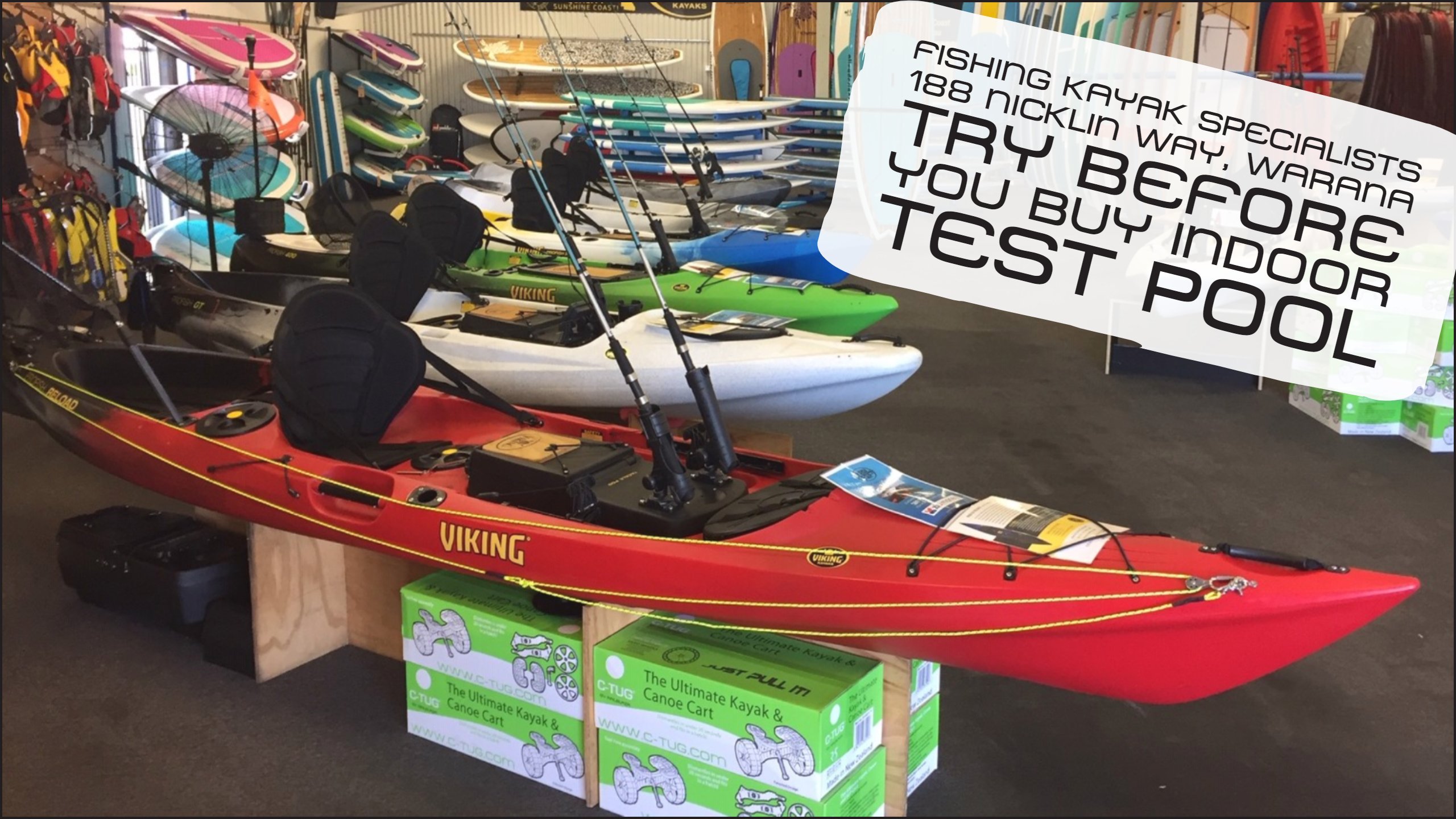 Sunshine Coast Snapper Fishing Tips
Best times to target snapper – change of light, mornings and afternoons in that 60min period around first and last light is when they hunt the most. Snapper will hunt after this as they are an opportunistic feeder so don't be discouraged if you're not a fan of early mornings or paddling home in the dark, but note the saying "the early bird gets the worm" applies here if you want the bigger specimens.
Get close – Snapper love the wash or white water and shallow reefs that hold bait at these low light periods so the closer your cast to the wash the better just up the leader weight to help avoid bust offs. If you're not prepared to get too close to the rocks then look for the sandy bottom edges close to the structure as they will be there as the bait gets pushed out from the structure. Aim for anything from 3-10m depths, you will need a fishfinder even a basic one just to tell you the depths & temps, we can sort you out with a Lowrance or bring your own fishfinder we will fit it for you instore.
Best water conditions – Best water temps for snapper here on the sunshine coast are between 18-21 degrees, in the shallow water this can be influenced heavily on the sun whence the 2 best bite times are low light. The better the visibility the worse it is fishing the shallows so fishing after rain is ideal as is higher the tide, incoming brings bait and debri in so this is a better tide at times when water is clearer.
Best bait or lure – This is as much about personal preference as anything, here on the sunshine coast you can catch snapper using all methods from the kayak. Trolling diving hard body lures over the shallows is a successful way and great when moving from one location to the next. Lightly weight weedless rigged soft plastics from 3"- 7" are effective (weedless to avoid snags) . Live baits are by far the best for the big fish at low light so a kayak with live bait options like the Profish Twin Tackle Pod will help alot, again lightly weighted and floated into the reefs. If you cant find live baits then pilchards, squid and strip baits (mullet or bonito) will get the snapper interested.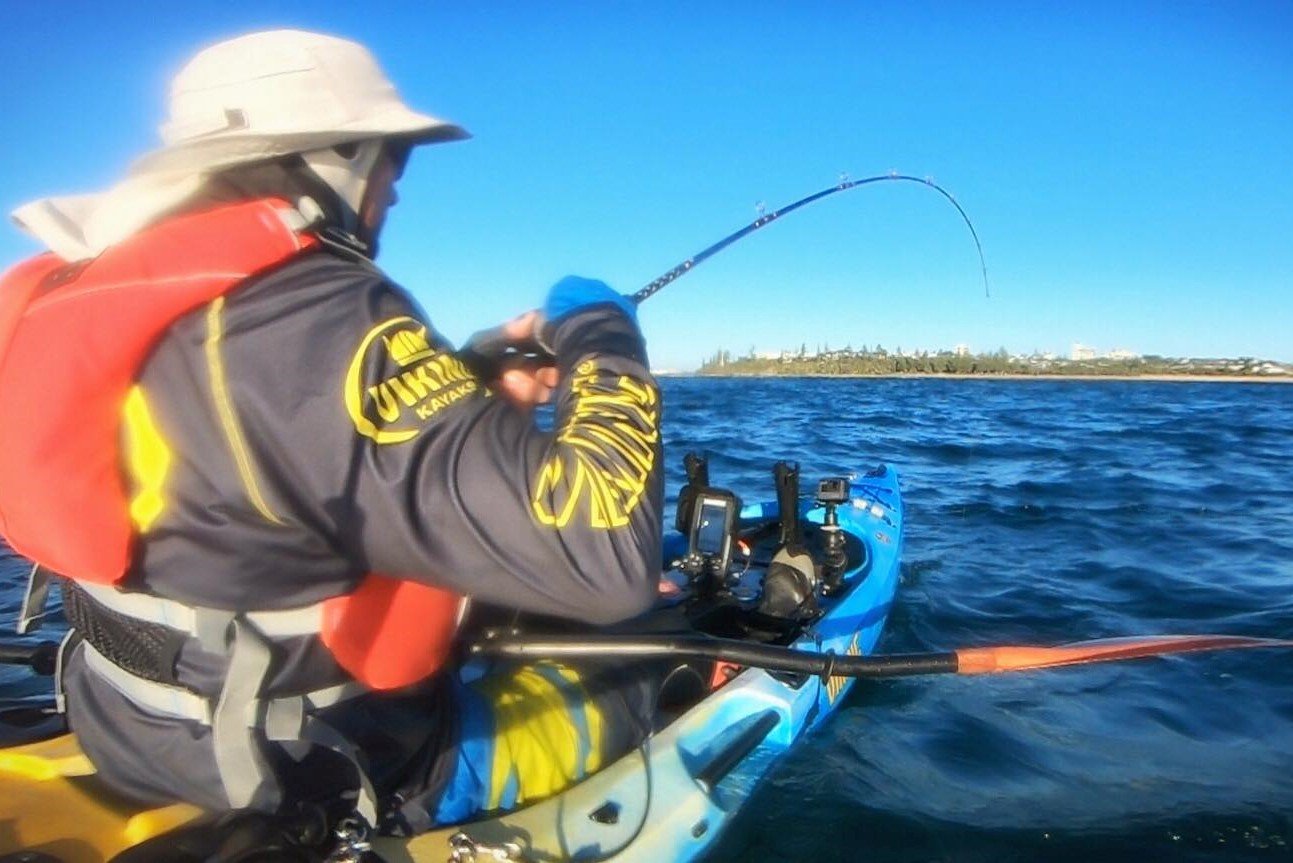 Best line weight and tackle –  For braid users if your fishing the wash then heavier leader (40lb +) will lesson the chance of losing a fish to the reef, just be aware to have a knife handy if you need to cut the line free if your at risk of the swell pushing you into the rocks. Again, shallow water use less weight that includes jig heads sinking & hard body lures. As the sun gets up and the fish get fussier lighten the leader.
Top 5 Sunshine Coast locations to Kayak Fish For Snapper
1 Caloundra – Bray's rock  – Located just off Caloundra's Shelly Beach this area has some amazing rocky terrain that holds a lot of bait. If fishing close to Brays Rock it's very shallow and be aware of the swell as it can break over the reef. Access points are from Moffat Beach, Kings Beach or for the more experienced Kings Beach Boat Ramp (concrete boat ramp not ideal for glass kayaks and dictated by wind and swell direction, also parking is not ideal).
Moffat Beach launch is around a 4.5km paddle to Brays Rock (Kings about 1km less) but generally the best option for inexperienced paddlers due to relative protection from the swell. Moffat Beach car park amenities and beach access is also more appealing than Kings Beach. Just take note on the way back as the shore dump can catch you out so plan for capsizing and strap or stow everything.
On the way to Brays Rock from Moffat or Kings Beach pay attention to the sounder as there are patches of rock all the way, you can pick up your bait along the way and also trolling hard body lures can result in some very good strikes. Once at Bray Rock use your sounder to locate bait and fish and hang off the drop-offs, pay attention to the swell as it will break over the reef, best to hang back. Tide direction will often dictate which side of the rock is best to find the snapper so check the tide before heading out.
2 Mooloolaba Point Cartwright – Prob the most sheltered and safest launch spot for the beginner. Parking at the spit gets you relatively close to the beach launch just bring a trolley with sand wheels like the C-Tug SandTrakz to ease the walk through the soft sand.  Point Cartright headland is just a short paddle from the spit but you must take care and be visible as there is a short paddle across the entrance to the harbour and river. If the swell is up then you will want to paddle a little wide of the rock wall to avoid the waves.
Stick close to the headland watching your sounder for bait and drop-offs from the rocks, this structure runs all the way around the headland so there is plenty of ground to explore. Staying as close to the headland as the conditions allow slow troll hard body lures, live baits or dead baits the moment you are clear of the entrance as the snapper will be feeding in close, run-out tide is good for flushing the bait out of the river.
3 Coolum – Yaroomba
This one is an open beach surf launch so you will both need some experience with surf launches and have the right fishing kayak to avoid putting yourself at risk. The headland from Coolum Beach North to Yaroomba holds amazing structure and bait. It is generally very shallow so best to fish low light.
2 launch spots and both require a decent walk from the carpark the beach through soft sand so again your sand wheel trolley will be a must. Yaroomba launch is the most treacherous for the inexperienced so unless you have very good surf launch experience or the waves are next to none the better launch is from Coolum beach out front of the surf club.
Stick close to the headland watching your sounder for bait and drop-offs from the rocks, this structure runs all the way around Yaroomba so there is plenty of ground to explore. Staying as close to the headland as the conditions allow slow troll hard body lures, live baits or dead baits the moment you are clear of the surf as the snapper will be feeding in close.
As the sun gets up this shallow water will get harder to fish so paddle a little wider to find structure up to 15m deep which will also hold your snapper. Coolum area holds a few good reefs out off the headland and even off Stumers Creek if your up for a paddle it would be worth locking the further reefs in your GPS and heading out 2km or so to find them.
GPS Marks for Coolum wider reefs
Hancock Shoal 153°6'29″E, 26°30'24″S
Coolum Reef 153°7'45″E, 26°32'43″S
Arkwright Shoal 153°10'0″E, 26°33'11″S
4 & 5 Noosa – Jew Shoal & Halls Reef
Launching from Noosa main beach 90% of the time is relatively safe from surf when heading out from the middle groin rock wall, either side. Just show patience to wait and read the sets before rushing straight out. Carparks are plenty when getting there before sun up but you still have to walk through soft sand so bring the trolley.
Halls Reef  – Located roughly 4km paddle north of the Noosa River mouth, using the gps tracker marks provided below you will pass over Little Halls where you can pick up live baits and even the odd good reef fish. Keep heading to Halls Reef and plan to target the bottom using techniques described below, this reef holds some nice sized reef fish all year round and a lot of bait. You can fish a little heavier here than the previously mentioned spots due to the deeper water and don't be surprised if a late-season pelagic takes off with your live bait!
Jew Shoal – The GPS marks will take you roughly 3km straight out off the beach to Jew Shoal. A good-sized patch of reef that has some shallow pinnacles and deep drop-offs all around. Catching live bait out here can be great and can be terrible so if your bait fishing bring some dead baits just in case. A good variety of reef fish can be caught here in winter including your snapper, and Cobia are in good numbers around these waters this time of year taking live baits, dead baits and soft plastics.
Note when coming back to the beach in daylight there will likely be a lot of people in the water including surf schools, take care to pack away all sharp objects and leash everything down, it's often less crowded on the National park side of the middle groin rock wall.
GPS marks
Little Halls Reef 26° 21.341'S;153° 5.026'E
Halls Reef 26° 20.250'S; 153° 5.110'E
Jew Shoal 26° 21.640'S; 153° 6.890'E
Sign up to our Newsletter below for more tips like these