If you're buying a kayak or paddleboard, after choosing which one your next biggest decision will be how to get it home and to and from the water.
Answered in this article –  How do you Transport 2 kayaks or 1 kayak and a SUP, Do you need roof racks, how to use kayak tie-downs, can you lock your kayaks on the roof racks…and more frequently asked questions around getting your kayak or paddleboard to and from the water safely.
If you have more questions that are not answered here or need a quote please contact us here CONTACT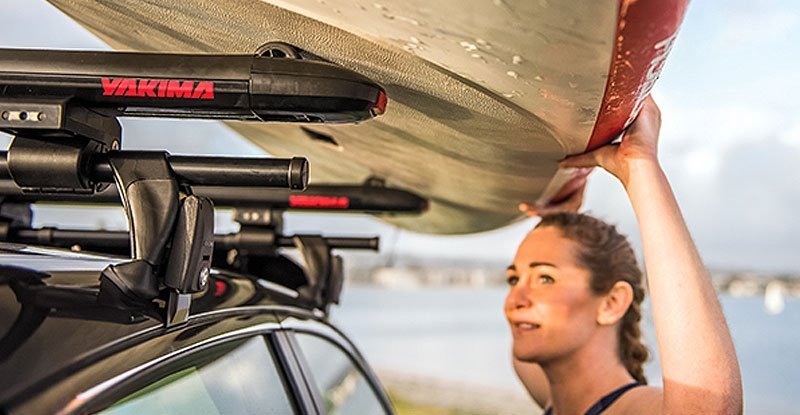 Do I need roof racks to transport my kayak or SUP? 
The simple answer is yes if you want to ensure the protection of your vehicle and the kayak or SUP then roof racks fitted to your vehicle are the most practical and recommended by our staff. We fit roof racks in-store while you wait or you can leave your car with us. To get a quote for roof racks fitted to your vehicle please get in touch, we just need to know your vehicle make, model & year to give you an instant quote. Contact HERE
Having fixed roof racks fitted to your vehicle will make it much easier on the person loading and unloading the kayak or SUP. Once you have fitted roof racks you are not limited to how far you can travel with your kayak or SUP and you keep them up off the roof preventing damage to the roof from rubbing.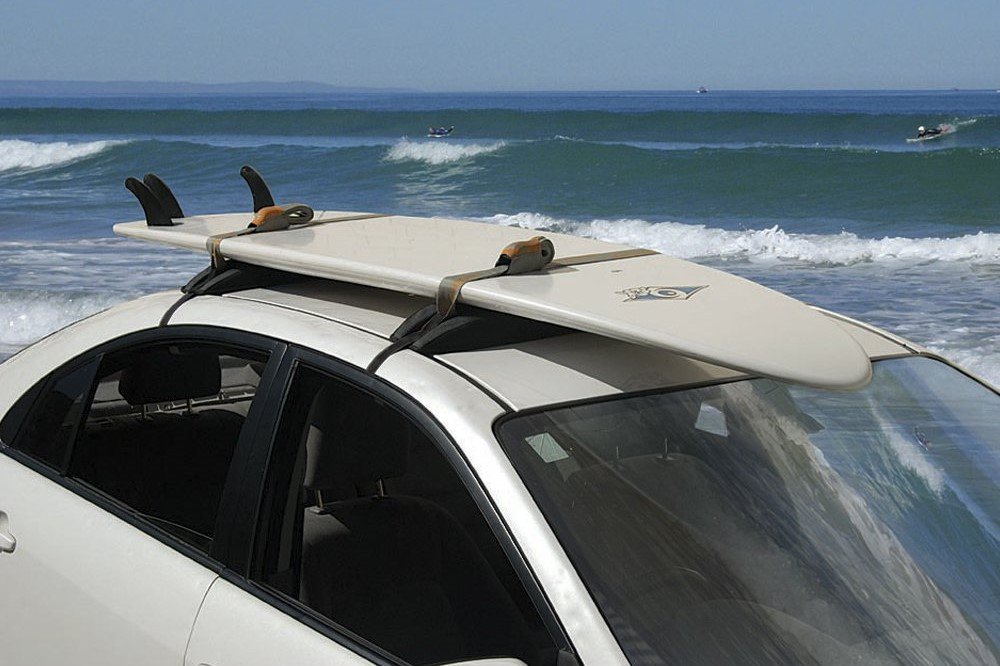 When are soft racks OK to use for a kayak or SUP?
Firstly, what are soft racks and how do they work? soft roof racks are simply a set of pads and straps that can be strapped to any roof by securing the straps through the car doors. Your kayak or SUP simply rests on these pads and then you tie the kayak or SUP to the pads. Soft racks are a budget option and a short distance solution, most often used when the kayak or SUP only needs to be transported from the shop to the house where it will live and will seldom be transported again on a roof rack.
If you live only a couple of blocks away from the water access, then soft racks could be a solution. It's important to note that soft racks will move slightly on your vehicle and can risk scratching the roof if there is any debris between the pads and the roof, the higher the speeds and the further you travel the higher the risk of damage.
Is a trailer better to transport my Kayak or SUP?
Trailers certainly make life easy to deal with multiple water toys, wet sandy gear etc, if your launch spot has ample parking for a trailer then this is a good solution. Trailer are generally lower so loading and unloading can be easier.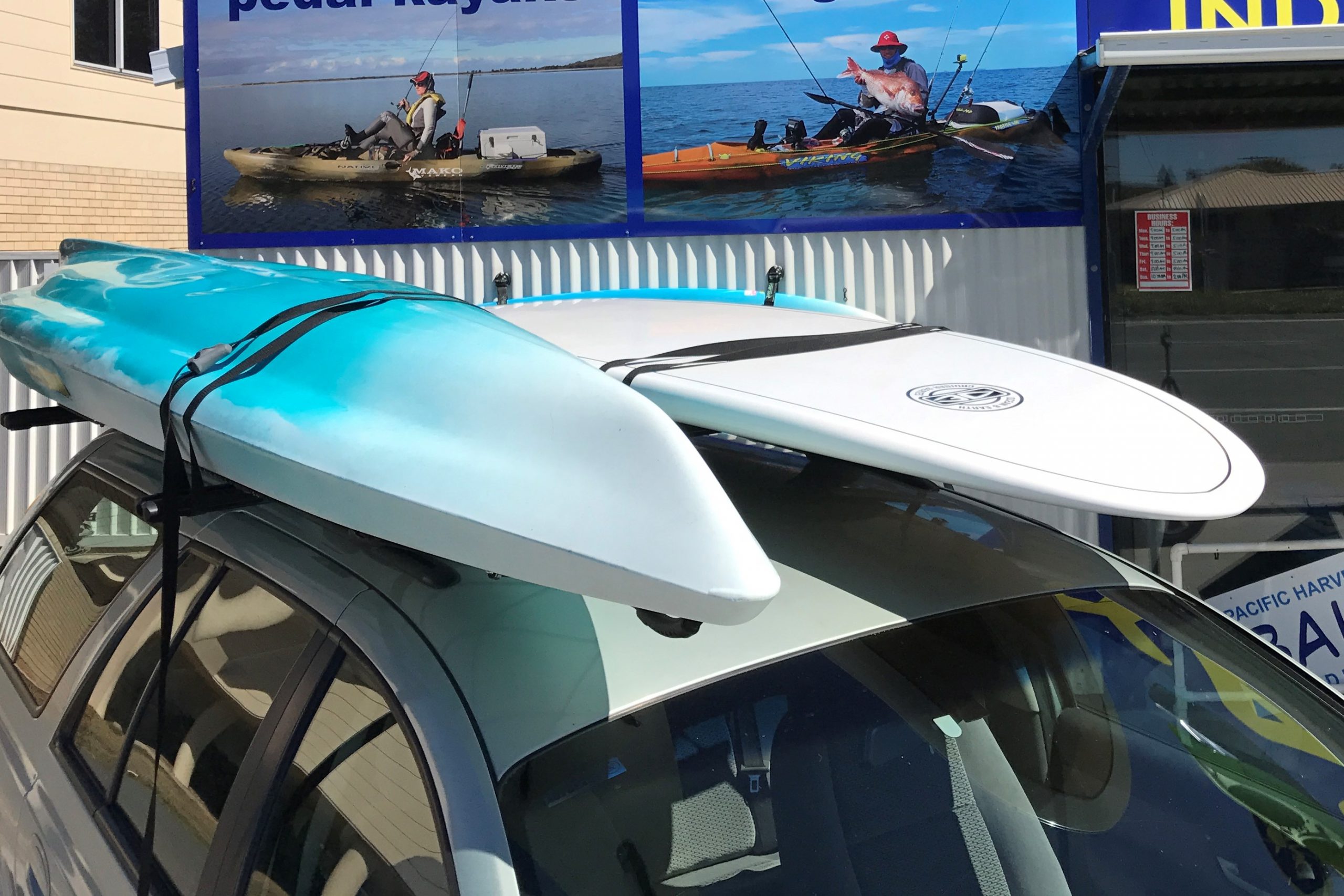 Do you transport kayaks or SUP hull up or down?
Generally, for open sit on top kayaks or canoes transporting them with the top (deck) down is recommended by manufacturers. The gunnels (top sides) of the kayaks are strong and by having them on the gunnel you are spreading the load more evenly which helps make for a more secure fit on roof racks.
If your kayak has a flat hull you can transport it with the bottom (hull) down on the roof rack bars as the load will be spread evenly over a flat surface. SUP can be transported either top or bottom as they have flat surfaces but transporting them in a bag is highly recommended – 80% of SUP damage occurs during transporting them out of a bag.
Do I need kayak cradles?
If your kayak is of composite materials and has more of a V or round hulls like a sea kayak or surf ski then kayak cradles are recommended to both hold them securely on roof racks and protect them from damage. If the kayak is plastic like our Javelin ski or the Oxygen then cradles are not ness as you can transport them upside down, there is however no disadvantage to using cradles if this is how you would prefer to carry them
How can I transport 2 or more kayaks?
This is a regular occurrence for our customers buying 2 or more kayaks or a kayak and a SUP. The images below demonstrate a couple of solutions with our most popular being the Yakima Jaylow which will allow you to load one kayak in the J cradle and the other kayak or sup on the remaining flat section of the Roof rack bars. The J Cradles fold flat or can be removed easily when not in use.
You can also request longer roof rack bars at the time of purchasing your roof racks which will allow you to lay the kayaks or SUP side by side. This is often a preferred option if your needing low clearance on the roof. SUPs can be stacked on top of one another preferably while in a SUP carry bag.
Some kayaks can also be stacked on top of one another if they cradle nicely into one another, loading them like this can be a little difficult at times given kayaks are much bigger and heavier to load so trying to get one on top of the other can increase the risk of dropping a kayak on your car.
Uniquely allows you to carry up to 2 kayaks J-cradle Style or 1 boat vertically. Integrated cam lever allows for quick and easy switching between j-cradle and kayak stacker modes. The convertible arms can be folded down when not being used. Includes straps and bow/stern tie-downs.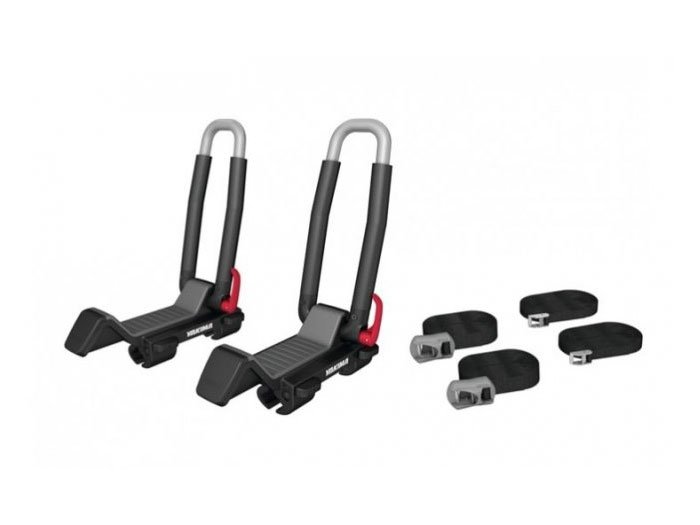 Can you use ratchet straps to tie down kayaks and SUP ?
NO!  you WILL damage them if you use a ratchet strap, you cannot feel the pressure you're applying like you can with a kayak cam buckle tie-down. Also, it's totally unnecessary to crank them down with such force, the cam buckle straps offer more than adequate pressure and security whilst protecting your investment…and they are far simpler to use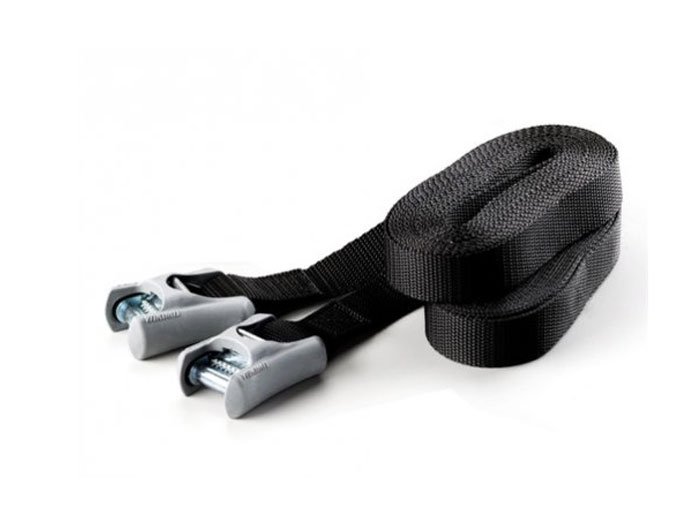 How can you lock your kayak or SUP onto the roof racks?
Lockable Tie Downs, by far the easiest and most popular way to secure your kayak or SUP from theft – We recommend either the Yakima RipCord or KanuLock.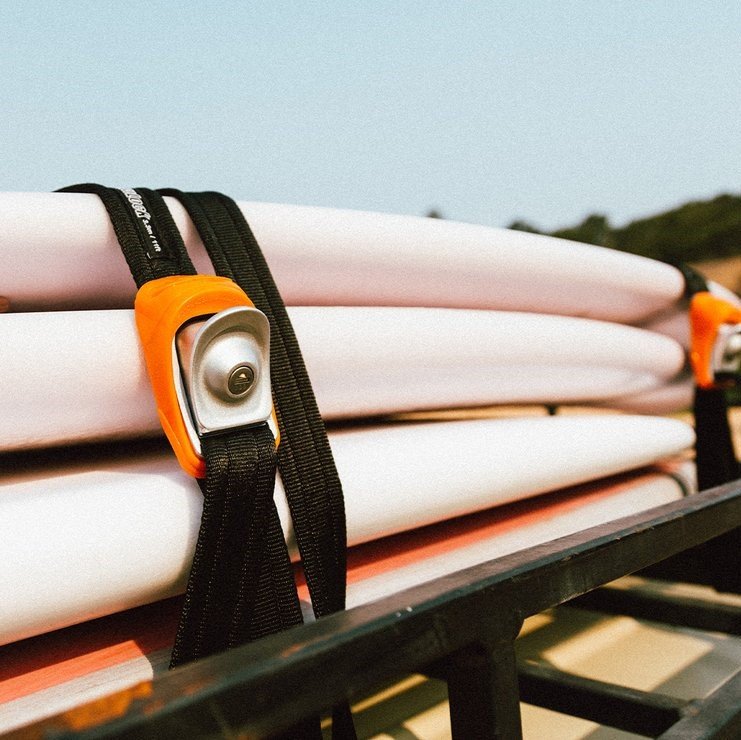 Do you need to run a cord from the front and back of the kayak?
Whilst this is good to do particularly with longer kayaks more often than not it is not ness if your roof rack bars are well spaced apart which distributes the load evenly assuming you have placed the kayak or SUP in a balanced and even position on the roof racks (not too far forward or back even amount hanging over the front and the back).
If however your kayak is longer and is hanging further over the front of the car and your travelling at speed for longer distances it is recommended to add a rope or tie-down from the kayak to the front of your car applying just enough pressure to take the uplift load created by passing vehicles.
How to use kayak tie downs correctly
Step 1 – The first step before loading the kayak or SUP is to lay the kayak tie downs over the bars or through the Jaylow cradle getting them ready, longer 4m plus tie-downs will make this process a lot easier. It's easier to do this without a kayak or SUP on the roof and in the way.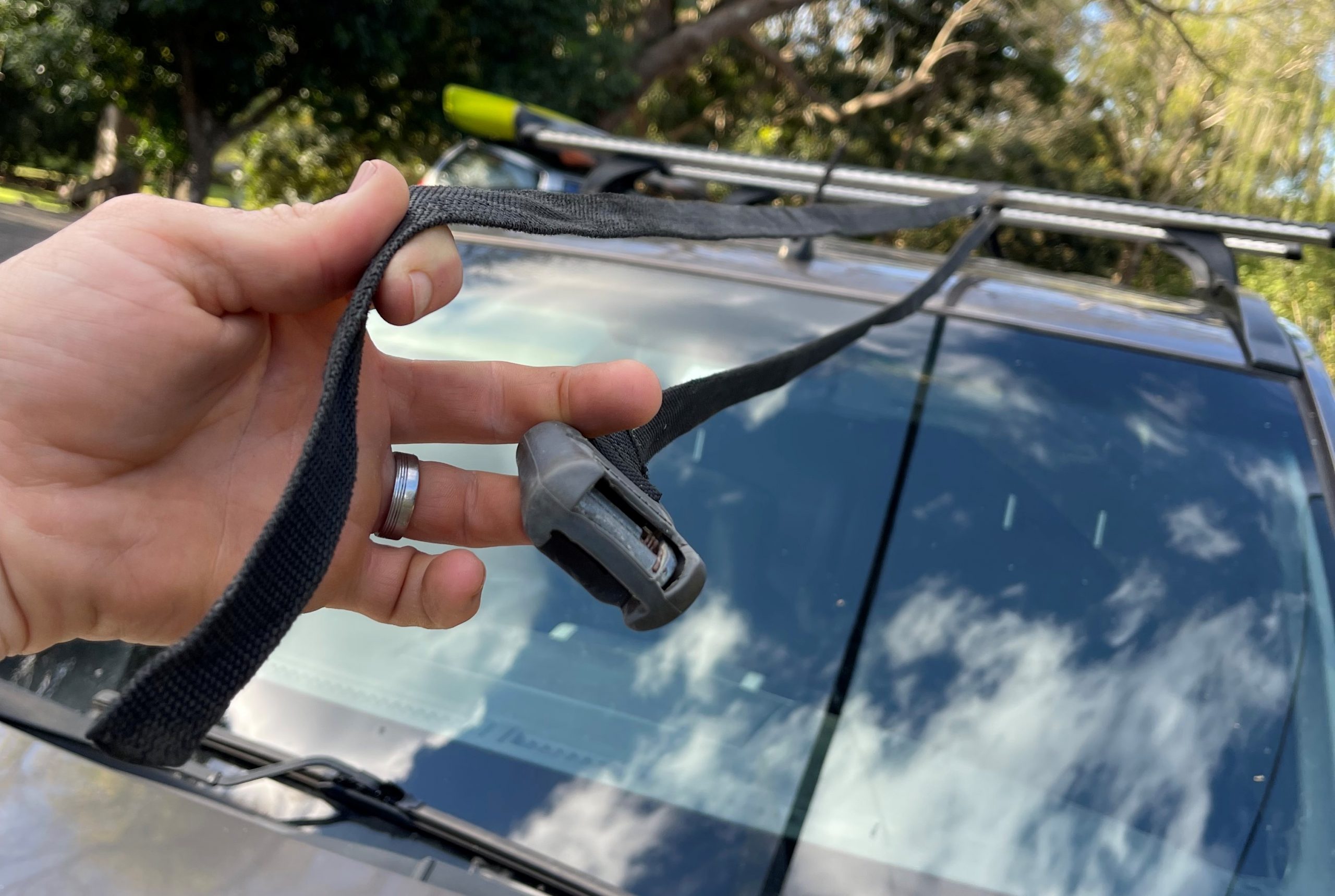 Step 2 – Next load your kayak or SUP in the way you have chosen – in this case, we are loading the kayak upside down. Grab both ends of the straps and flick them over the kayak or SUP mind not to cross them over one another.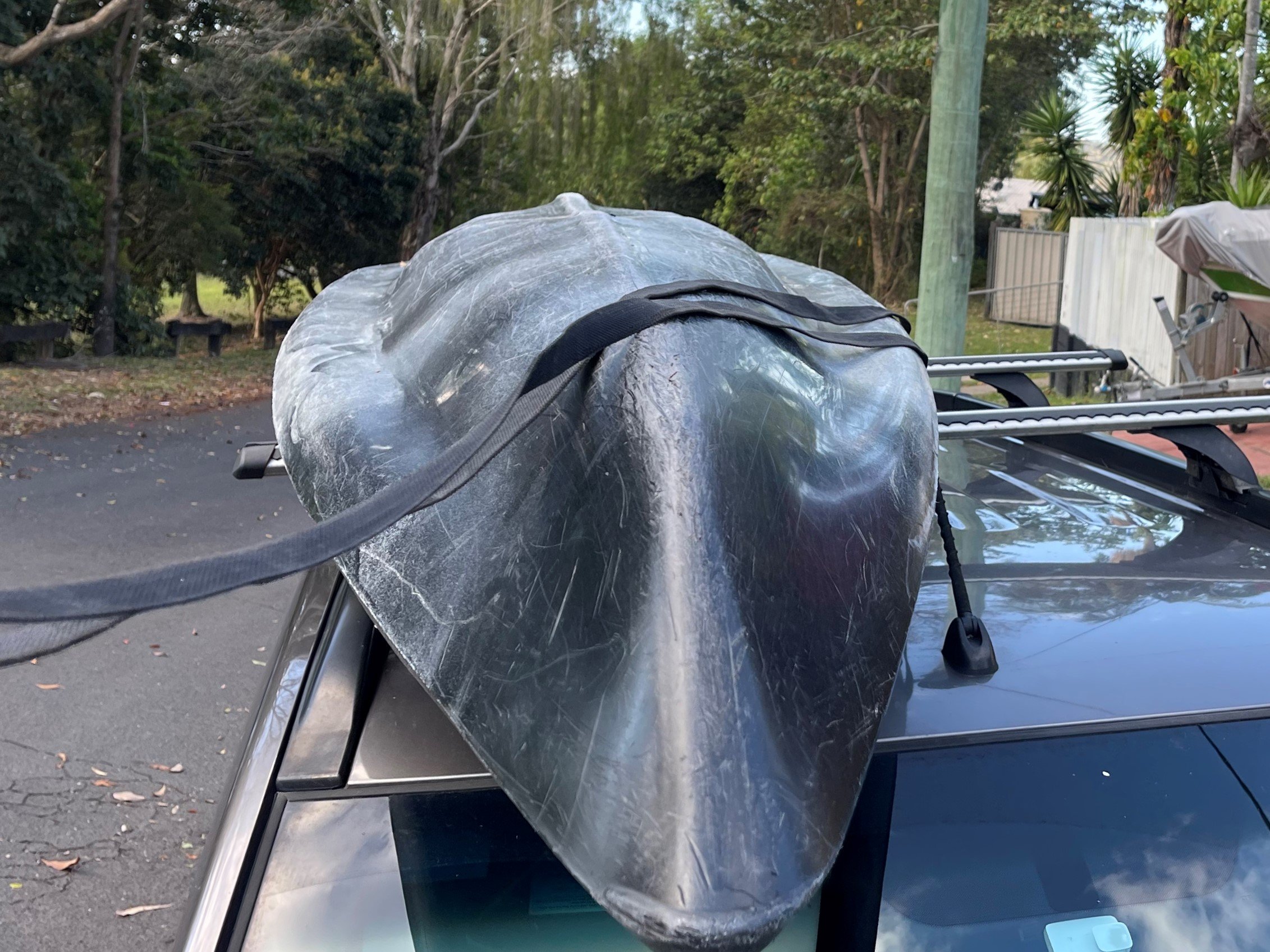 Step 3 – Holding the buckle end in one-hand pull on the other end until the buckle end is at eye level. Thread the none buckle end around the bars, behind the roof rack foot or through the tie point of the bars if yours have then (Whispbar HD bars have this feature).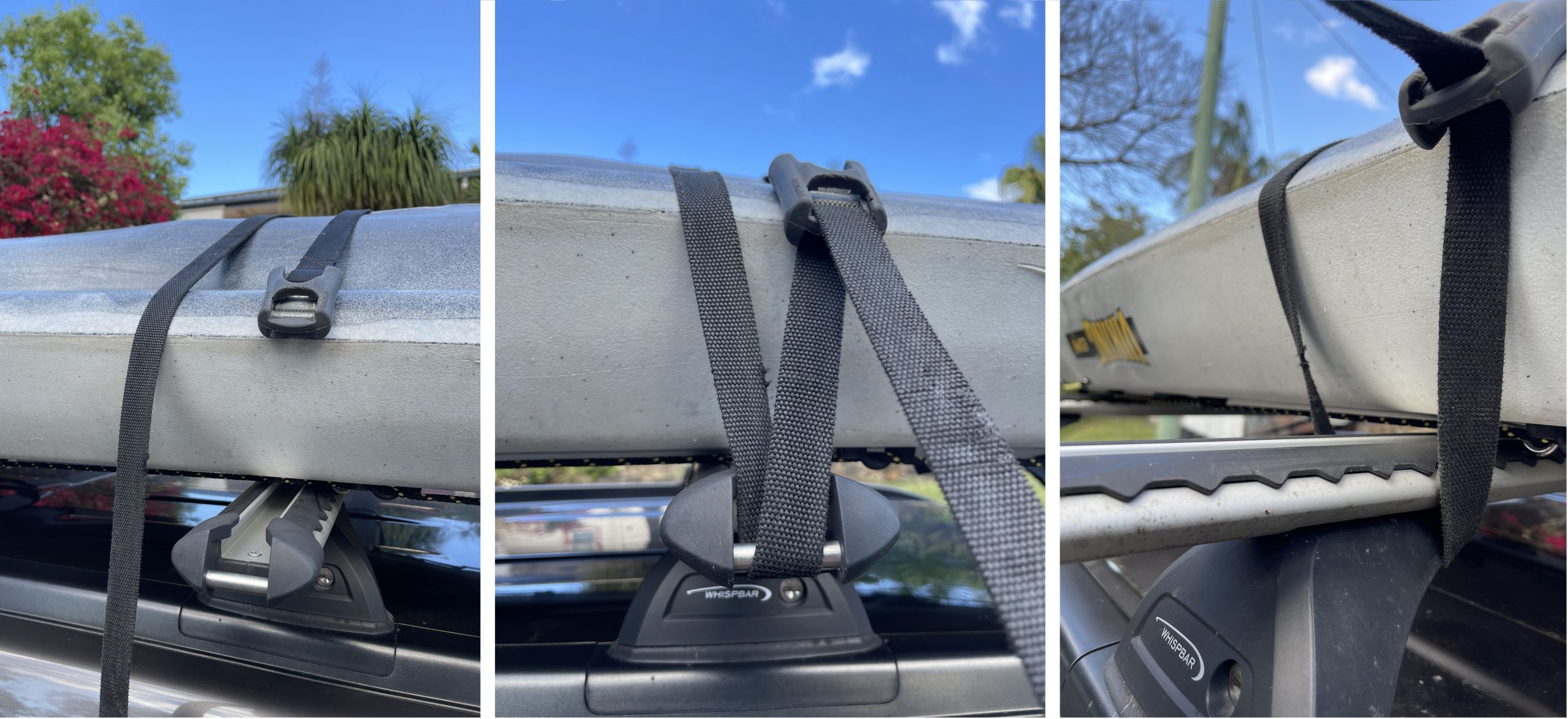 Then open the cam buckle and thread the strap through pulling the strap tight onto the kayak. If the strap does not pull through freely then you have likely crossed the straps and they are jamming so undo and go to the opposite side to look to see if they have crossed over then go again with the tightening of the strap.
Done – Once you're happy with the tension check the kayak does not slide around on the bars, if so then you need to go tighter. Once you have your tension sorted tie off the excess strap and your done – its that easy, if this is new to you then be sure to pull over a couple of times just to check your straps have not loosened.
Need a quote for roof racks?
Only takes a moment and can be done over the phone, instore or fill out the contact page HERE and leave us your car make, model & year

Wondering how to load your kayaks easily?
Watch this video of our number one selling load-assist option for kayaks and paddleboards the Rack&Roll  You will never struggle to load your kayak or paddleboard again when you use the Rack & Roll load assist.